Veteran's ID Discount Program
"Operation Veteran Appreciation"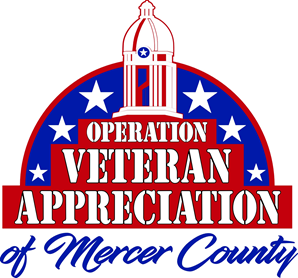 Veterans ID Discount Program
The Mercer County Recorder of Deeds, Dee Dee Zickar and the Director of Veterans Affairs, Bradley Alan are proud to announce "Operation Veteran Appreciation" Veterans ID Discount Program. We salute our men and women who have served in the Armed Forces, as well as those presently serving our nation today.
The program provides a photo ID card to Mercer County veterans who have recorded their US Military Discharge with the Recorder of Deeds office.
** DD214'S THAT ARE RECORDED IN THE RECORDER'S OFFICE ARE NOT PUBLIC RECORD.**
Members of the military who are currently serving our country and have a current military ID can receive one of our cards, too. Unlike the cards for discharged vets, the card for current members of the military will expire on the same day as their military issued ID card.
This photo identification card is provided free of charge.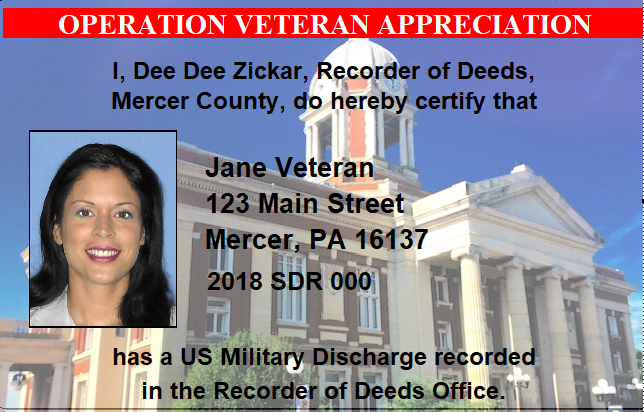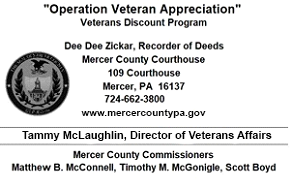 The Veterans ID Discount Program launches Tuesday, November 13, 2018. Please apply in the Recorder of Deeds office Monday thru Friday between 8:30 AM and 4:00 PM (excluding holidays).
All Veterans and Businesses interested in participating should download the Operation Veteran Appreciation Brochure for more information.
We would like to thank Signs of an Art Attack for designing our logo and donating the window stickers for our program. We would also like to thank Katlin Byers for permitting us to use her photograph of the Mercer County Courthouse that is featured on our cards.

Also, many thanks to the following Posts for their generous contributions to our program:
Shenango Valley VFW Post #1338
Mercer VFW Post #6345
Greenville American Legion Post #140
If you have any further questions, please contact
Dee Dee Zickar, Mercer County Recorder of Deeds
109 Courthouse
Mercer, PA 16137
Phone: 724-662-3800 Ext. 2274
Email:
dzickar@mercercountypa.gov